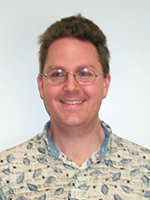 College of A&GS
Department of Geography
The University of Oklahoma
Sarkeys Energy Center, Room 674
100 East Boyd Street
Norman, Oklahoma 73019-1008, U.S.A.
(405) 325-4319 office
E-mail:
Scott Greene
Appointments at the University of Oklahoma:
Professor of Geography
Education:
Ph.D., University of Delaware, 1994
John Scott Greene Professor, and research scientist.
Courses:
Analytic Methods in Geography
Climate, History, and Society
Freshman Mentoring
Geotechniques
Global Climate Change
Global and Regional Climatology
Introduction to Interdisciplinary Perspectives on the Environment
Introduction to Physical Geography
Principles of Meteorology
Quantitative Methods in Geography (Advanced Geographical Statistics)
Quantery Environments
Social and Economic Impacts of Climate change
Research Methods
The Climatic Challenge
Sustainability and Society in the Southern Plains

Recent papers:

Morrissey, ML., and JS Greene: "A Theoretical Framework for the Sampling Error Variance for Three Dimensional Climate Averages of ICOADS Monthly Ship Data", Submitted to Theoretical and Applied Climatology.

Greene, JS, B Paris, and M Morrissey, 2007, "Analysis of Historical Changes in Extreme Precipitation Events in the Tropical Pacific", Climate Research 34, 1-14.

Greene, JS, M Klatt M Morrissey, and S Postawko, 2007, "The Comprehensive Pacific Rainfall Database: An enhanced tool for research and education", Journal of Atmospheric and Oceanic Technology.

Greene, JS, and E Maxwell, 2007, "Climatic Impacts on Winter Wheat in Oklahoma and Potential Applications to Climatic Prediction", International Journal of Biometeorology 52(2), 117-126

Kalkstein, L.S., J.S. Greene, D. M. Mills, A. D. Perrin, 2008, "The Development of Analog European Heatwaves for US cities to Analyze Impacts on Heat-Related Mortality", Bulletin of the American Meteorological Society.

Nandintsetseg, B. J.S. Greene and C.E. Goulden, 2007, "Trends in extreme daily precipitation and temperature in the Lake Hövsgöl basin area, Mongolia", International Journal of Climatology 27, 341-347.

Morrissey, M.L., and J.S. Greene, 2006: "Ground validation for the Global Precipitation Climatology Project," in Measuring Precipitation from Space, EURAINSAT and the Future, pp. 381-392 , V. Levizzani, P. Bauer, T. J. Turk, eds, Springer Science, New York.

Greene, J.S., and L. S. Kalkstein, 2005, "Analog Heatwaves for US cities and Estimates of Heat-Related Mortality", Annalen Der Meteorologie, Deutscher Wetterdienst, Offenback 41(1).

Greene, J.S., 2005 (Contributing author) to "Climate Change Futures: Health, Ecological and Economic Dimensions", published by Swiss Re and the United Nations Development Programme, edited by Paul Epstein.

Recent Grants (Principal Investigator)

"The Oklahoma Wind Power Initiative", State of Oklahoma Department of Commerce, $1,030,,814, 7/1/03-6/30/09.

"Assessing Wind Resources in Oklahoma", US Department of Energy, $264,772, 5/1/03-6/31/08.

"Installation and analysis of wind resources for Native Americans", US Department of Energy 03/01/03-03/31/08, $26,000.

"Renewable Energies Educational Development (REED) for Enhanced Environmental Stewardship in Oklahoma and the Southern Great Plains (Principal Investigator), Environmental Protection Agency, $48,345, 11/1/06-10/31/07.

"Funds to support outreach and activities of the Executive Secretary" , International Society of Biometeorology, $15,000, 01/01/05-10/31/08

Previous Grants

"Lake Hovsgol, Mongolia Ecosystem modeling", Travel Funding from World Bank, $5500, May, 2006.

"Wind Climatology and Wind Energy Resources in the Oklahoma Panhandle", Ridge Energy Storage Company, 04/01/04-07/01/04. $5,000.

"Merging of Mesonet and Remotely Sensed data for the Estimation of Water and Energy Fluxes" NASA, $455,468, 11/1/97-10/31/02.
"Evaluation of the Oklahoma Demonstration Weather Modification program", State of Oklahoma Water Resources Board, $175,000 7/1/98-6/30/01.

"Determining the Accuracy and Limits of Predictability of Numerical Weather Prediction for Regional Tactical Military Operations", Air Force Office of Scientific Research, $500,300, 11/14/97 - 11/13/00.

Recent Grants (Co-Principal Investigator)

"Program Support Through the Assimilation, Analysis and Dissemination of Global Raingage Data Sets" NOAA $1,201,600, 5/1/01-6/30/09.