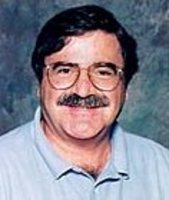 College of A&GS
Department of Geography
The University of Oklahoma
Sarkeys Energy Center, Room 618
100 East Boyd Street
Norman, Oklahoma 73019-1008, U.S.A.
(405) 325-2272 office
E-mail:
Biosketch: Biosketch in pdf format
Curriculum Vitae: CV in pdf format
Science & Public Policy Program: 1998 Annual Report in pdf format
Mark Meo
Appointments at the University of Oklahoma:
Professor, Department of Geography
Research Affiliate, Oklahoma Climatological Survey
Education:
Ph.D. Ecology and Environmental Policy Analysis, University of California, Davis, 1983.
M.S. Marine Sciences, Louisiana State University, 1974.
B.A. Biology, Northeastern University, 1971.

Courses:
Geog 3890 Renewable Energy Resources
Geog 3890 Corporate Environmental Strategy
Geog 6240 Seminar-Climate Adaptation
Selected Publications:
Mark Meo, Becky Ziebro, and Ann Patton, Tulsa Turnaround: From Disaster to Sustainability, Natural Hazards Review, Vol. 5, Number 1, pp. 1-9, 2004.
Mark Meo, Timothy Hughes, and Joakim Laguros, "Hydrogen Production from the Wind: Prospects for Oklahoma," in T. D. Lekkas (ed.) Proceedings of the 8PthP International Conference on Environmental Science and Technology, Vol. B, pp. 574-579, Lemnos Island, Greece, September 8-10, 2003.
Mark Meo, Will Focht, Lowell Caneday, Robert Lynch, Fekadu Moreda, Blake Pettus, Ed Sankowski, Zev Trachtenberg, Baxter Vieux, and Keith Willett, Negotiating Science and Values with Stakeholders in the Illinois River Basin, Journal of the American Water Resources Association, Vol. 38, No. 2, pp. 541-554, April 2002.
Mark Meo, Mark Sharfman, and Rex Ellington, FortressP©P Insecticide and the SmartBoxPTMP Application System: Closing the Loop on Human and Environmental Exposure to Organophosphate Chemicals, Pollution Prevention Review, Vol. 11, No. 4, pp. 53-74, Autumn 2001.
Mark Sharfman, Rex Ellington, and Mark Meo, The Introduction of Post-Consumer Recycled Material into TyvekP©P: Production, Marketing and Organizational Challenges, Journal of Industrial Ecology, Vol. 5, Issue 1, pp. 127-146, Winter 2001.
Mark Meo and Mark Sharfman, Editors Introduction, Green Technology and Public Policy symposium, American Behavioral Scientist, Vol. 44, No. 2, pp. 166-167, October, 2000. Accessible at: HTUhttp://abs.sagepub.com/cgi/content/refs/44/2/277UT
Mark Meo and Becky Ziebro, Ozone Alert! and Urban Air Quality: The Significance of Strategic Policy Innovation in Tulsa, OK, in Preprints, 3PrdP Symposium on the Urban Environment, pp. 106-107, American Meteorological Society, Davis, CA, August 14-18, 2000.